Low Growing Groundcover For Shade. A few gardeners have just a little time to spend in their gardens as they would wish. Any creativity to the landscape, to save them some time in the garden is worth considering.
Ground cover is one valuable help because it does not need many times of weeding, and can help to cover large areas with just one type of plant, the time for planting can be saved.
What is a Ground Cover Plant?
So what are ground cover plants? They are plants that fits exactly with the name, plants that cover the ground in larger areas. Ground cover plants can be a creeping plant that spread out to form a dense mat.
Or there are the type of ground cover plant for a large planting of individual plants. This means each plant are planted closer to the other plant to give a close mass. A dense growing plant would be sufficient, and they are considered to be low growing ground cover.
Ground cover are often used as flower at some point, but they are commonly used as foliage plant. It is just to make sure they cover the ground for the maximum length of time.
Many can simply be left until they die back naturally, but others, such as pulmonarias, are best sheared over at the end of flowering so that they acquire a set of fresh and more attractive leaves.
What are uses of ground cover plant?
So, what are the purposes of ground cover? There are several reasons for using ground cover. The first and most obvious one is that a dense covering of plants inhibits the germination and growth of weeds from beneath them. In other words, it cuts down the amount of weeding that is required for the area they cover.
Ground cover plants are big benefit for you when you want to cover large areas with beautiful and eye-catching plants. They would be very important in large gardens.
You might see under the tree needed a carpet of plants that can turn into very attractive view of your garden. Other benefit of ground cover is that they can be used as substitute for areas that are difficult to cultivate.
Ground cover plants can be used to cover areas that are shady where turf grasses do not grow well. Ground cover plants can be used to serve as covers for common hot, and dry areas.
For extremely high-traffic areas ground cover plants bear up well. A sturdy creeping plant such as creeping thyme (Thymus serpyllum) is suitable in these locations.
Ground cover can also be used for choking out or suffocate weeds. Some ground covers plants grow dense enough that they block out and suffocate weeds.
---
List of Best Low Growing Groundcover For Shade
1. Sedum Album Coral Carpet, Ground Cover
If you have a well drained soil, dry soil or medium soil in full sun, this ground cover can grow really well. Even though it requires full sun, it can actually tolerate very light shade. When it established, it will thrive well in the heat and drought. It prefers sandy to gravelly soils of moderate to low fertility.
This would be a great selection of ground cover plant. It can be formed as a low carpet of small, rounded green leaves. White star shapes flowers will bloom in summer. It would be a nice view in a rock garden. It can also grow well in pots or container. The height is short enough to use between flagstones in a patio or walkway.
Soil pH: acid, alkaline or neutral. Bloom time: early to mid summer. Height: 3-7 cm Spread: 30-60 cm. Can tolare light foot traffic. It has a medium growth rate.
---
2. Vinca Minor Vines
This plant is a low growing ground cover that has a height of only 3 to 6 inches off the ground. The trailing stems can reach 18 inches in length. As as ground cover it has the capability to fill in a large area and especially keep weeds down. It would bloom a blue flower, lavender, purple or white color.
This plant can grow in full shade or just partial shade or partial sun. It can not stand direct sunlight but able to tolerate deep shade conditions. They thrive the maximum potential in partial shade. With area of dry shade, it would be perfect choice for a ground cover. It really depend on well drained soil. If you want to fill your area fast, give space between one plant to another about 1 foot apart. They thrive in poor soils as well as in in soils rich in compost.
When the plant reach its maturity, it is drought-tolerant. The plant can suffer from many diseases, especially in wet climate and humid.
They can not thrive in cold weather. During winter, you better take them indoor. Fertilizing your plant regularly like every single month, with evenly nitrogen, phosphorus, and potassium, will absolutely help your soil that lacks rich organic matter. But you must remember that it can still thrive in poor soil.
---
3. Dwarf Mondo Grass
The Dwarf Mondo grass is also been called as monkey grass. It is would make a great ground cover or other purpose suc as a stand alone grass plant. You need not to worry about soil condition, because it can thrive well in any soil. You can also grow them in full sun or dry shade. The plant is a low and slow growing plant that only requires a minimal care when it reach its maturity.
Dwarf Mondo grass can tolerate high foot traffic and stand deer. Without enough moisture, it can stop growing or fail. The beautiful thing this grass is that during the summer it boost the beauty of the area with lavender or white flowers. These flowers will develop into glossy black fruit. It is categorize as an easy to grow plant where there is plentiful moisture is naturally available in the area they live in.
Since it is a grass plant, it is a low growing plants that grow only 6 to 10 inches tall (or about 15 to 25 cm.). It is a native region of Asia. The name are meant beard and snake derived from the Latin words. It can thrive in shady to partially sunny locations. Leaves are 1/2 inch wide (about 1.3 cm.) and glossy green color.
---
4. Irish Moss or Sagina Subulata
You can add elegance look with your landscape with this Irish moss plants. They are a versatile low growing plants that can fill a range of garden or lawn needs. It is prostrate herbaceous evergreen perennials in the carnation family (Caryophyllaceae) that are in the flowering plants. It can thrive in full sun to partial shade. They would not prefer the moist. The plant is a native of western and central Europe.
It is a dense and compact ground cover plant that has the height of just 1-2 inches tall. It will bloom its tiny star shaped flowers, which comes in the beginning of late spring and will continue to the growing season. You can plant this plant around stepping stones, between flagstones, or at the edges of a path.
The plant can tolerate light foot traffic. It is a great choice for ground cover in rock gardens or even planted near edges of water features. You can also plant Irish Moss for contrast in pots or containers or as simulation of a lawn in miniature gardens. Irish Moss grow at a moderate rate. You have to wait a long time to completely fill an area. To fill an area faster, you can plant them in smaller distance.
---
5. Blue Rug Juniper
Blue Rug Juniper is a ground cover plant that can tolerate during drought and can crave fast drainage. This plant is the solution for ground cover that will thrive on sunny slopes, where water runs off so quickly. Juniperus horizontalis 'Wiltonii' are a low growing evergreen plant can grow only from 4 to 6 inches tall. The wide spread can be between 6 to 8 feet. It is a heat tolerant plant, as well as it can still thrive in the frost and snow. It require sandy soil of deserts or a fluctuating temperatures or rocky, and thin mountain soils.
Blue Rug Junipers can only live in part shade, not full shade or it will end up growing thin. Before you start planting, get the ground ready soil amendments. This plant can become weed controller when it reach its maturity, they are well mulched. After six weeks of being planted, you must water the juniper every two to four days. After these sequence, water the plant once per week. They are best planted during the early spring months, cooler fall, or winter.
The plant does not need pruning. But if it is affected by disease or the growth has become disorderly and disruptive. To contain the plant from spreading widely, keep it trimmed. By doing this you are also boosting growth and encourages branching. Only do the pruning during dry weather or the spring months.
---
6. Thyme
Thyme (Thymus vulgaris) is a low-growing ground cover perennial. It is known for its aromatic smell as Mediterranean herb. It can thrive well in sunny and dry conditions. It is can provide the flavor of cooking and can be combined well with other flavors. You can blend them with garlic, olive oil, and tomatoes. It has a feature of white tubular, lavender or tiny pink flowers of thyme plants. The flowers bloom in the spring and summer. Bees would love to be near them. There are about 350 different species of thyme, comes in many scents and flavors. Thyme is widely adaptable to many weather conditions.
Numerous varieties of thyme have different growing habits. In general, it is a low growing ground cover with height of 6 to 10 inches only. Some send up flower stalks or mats or will cascade. Some varieties form flat carpet. You should consider grow thyme alone without being accompanied by other plant. Expose the plant to a spot in full sun. It can tolerate hot, and dry conditions. The soil should be well drained and about 7.0 pH alkaline.
You can easily propagate thyme plants by cutting, even though it can grow from seed. Because of the number of varieties, some can grow by cross-pollinate and hybridize. You can cover large areas by planting them 6 inches apart. It can be harvested at any time because the leaves' flavor is retained.
---
How to care for ground cover?
Ground cover plants only need a minimum amount of maintenance once developed. Water well newly planted ground covers so roots become well developed.
Be sure to keep the area free of weeds by shallow cultivation. When the first season pass through, water as needed only during dry periods in summer months or fall.
---
How to prepare the site and soil for ground cover
To have a permanent ground cover planting, time spent preparing the site will result well. You have to pay attention to remove weeds, from the bed before planting.
Weeds may be killed by using a systemic non-selective herbicide. The other method is by suffocating weeds. You can do this by covering the area with a sheet of black plastic for 1 to 3 months. If it does not kill weeds, cover them longer.
If you decide to do more effort by using herbicide, follow the instruction label of how to apply, how to mix and when. Follow it, and weeds will not grow back. If not, new plantings can result in poor and slower development of the ground cover.
After the weeds have been killed, they can be tilled into the soil. You must remove any seed heads before tilling.
Till the soil to a depth of 6 to 8 inches (20.32 cm). After that you can add organic matter to help improve soil tilt.
Apply two pounds of 5-10-5 fertilizer per 100 square feet (9.29 m²). After they are ready, do not plant the soil for about 2-3 weeks.
During this period of time, any weeds not eliminated will regrow and can easily be removed. This helps to eliminate invasion of weeds after the area has been planted.
---
How to plant ground cover shade?
Planting ground cover need spacing. It will depend on what is the plant's habit, what is the rate of growth, how much is the cost, and how fast the area needs to be covered.
Faster growing ground covers have to have further spacing apart than slow growing types. It is recommended to plant ground covers in a diamond or staggered pattern for best results.
When planting on slopes pattern, you must mulch the area after planting. You can also plant through fiber netting to help hold the soil in place.
Allow one to two growing seasons for the soil to become fully developed.
---
When to plant ground cover?
The best time to plant most ground covers is in the spring months (March, April, and May) or fall (September, October and November).
Summer planting needs special attention to watering. Fall planted ground covers need mulching to block and stop frost heaving of the plants.
---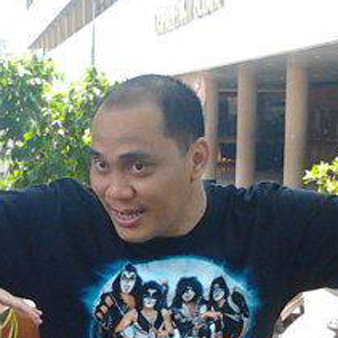 Person: Henry Kaswandi, SS, M.Kom.
Contact Info: You can reach me by email. Hi, this is Henry Kaswandi, SS, M.Kom. I am a garden and outdoor activities lover. I try to write a comprehensive article for good information and guide.