Best Poison Ivy Killer. The weed that is hard to kill is the type of plant that has to be eliminated down to the root. Poison Ivy is one of them. Their root has to be eliminated in order to kill it. Killing down to the roots is not an easy task.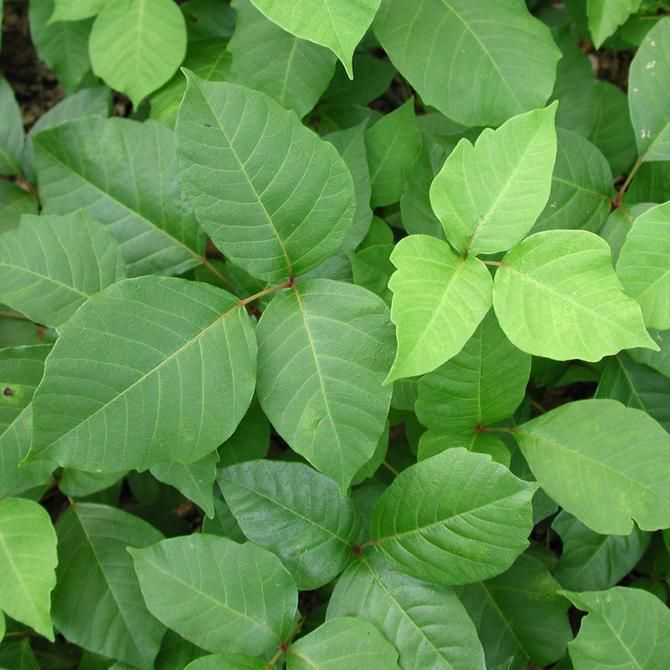 When you try to kill Poison Ivy, it can cause severe reactions including a bad rash, red rash, and itchy rash. Pulling the roots would be a bad choice of killing Poison Ivy. One of the better methods of killing Poison Ivy would be to use the best poison ivy killer.
How to get rid of Poison Ivy?
The non-chemical method
1. Manually pull by hand
The most affordable and quick way to get rid of Poison Ivy is to try pulling the plants. This way works fast and you will notice immediate results.
Especially if you are immune to the allergic effects of Poison Ivy. You can just do the pulling without worrying.
However, if you do it yourself, make sure to wear gloves, goggles, clothing to cover every part of your body, duct-taping your pants around your socks to protect and duct taping the edges of your shirt sleeves to your gloves.
It is absolutely necessary to do. Extra precaution before the task could save your life and save you many hours and days of discomfort from allergic effects.
You have to make sure to wash your clothing, pants, and shirt, at a high temperature and do it two times to be safe.
Before pulling the Poison Ivy, dig out the surrounding about 10 inches or 25.4 cm beneath the plant to pull roots out easily. Cover the area with cardboard or mulch to prevent regrowth afterward.
The best time to do this is after a rain. Deposit the Poison Ivy into a paper bag for garbage collection.
2. Hot water
Pour 1 bottle of hot water onto Poison Ivy to kill them. Do this if Poison Ivy growing in a crack in a path or next to the driveway, but not at the garden bed. Hot and boiling water will kill anything including Poison Ivy it touches.
But by doing this it will kill Poison Ivy but not completely. After the boiled Poison Ivy dies, new plant growth will emerge. When you see this, boil one kettle of water and pour it on it.
3. Suffocate
Cover Poison Ivy with a plastic tarp or cardboard to suffocate and kill it. When they die, check the surrounding treated area for new growth. If you miss an underground root out of the tarp or cardboard may send up shoots.
4. Salt and dish soap
Mix 1 cup of salt in 1 gallon of water and 1 tablespoon of dish soap. Place into a water sprayer or pump sprayer. Spray the Poison Ivy.
This mixture will kill the Poison Ivy. Make sure not to spray other plants because they will be killed too. Do this on a sunny day to avoid the wash off. It will take two or more application but this method works.
Chemical method
The most commonly used chemical herbicides to kill Poison Ivy is the product that contains active ingredients that are glyphosate or triclopyr. These are chemicals that have the right formulation for a speedy solution to the Poison Ivy problem.
Poison Ivy will die fast. Notice for new growth and spray this chemical again right away.
---
There are many options when it comes to killing Poison Ivy using chemical methods. Some choices are ready to use. Other choices are concentrated and have to be mixed with water before application. Here is the available list.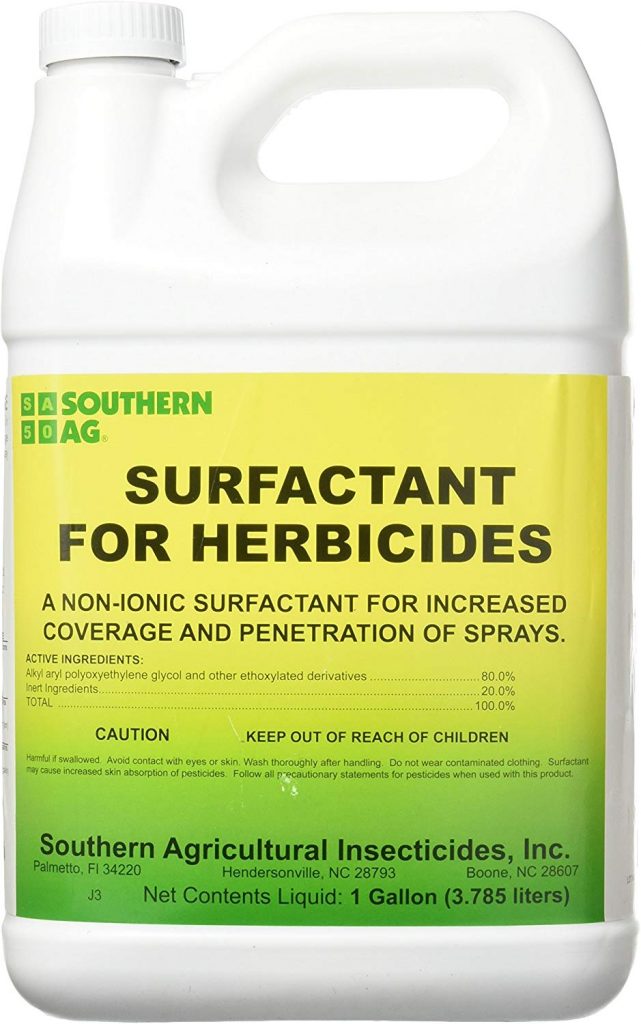 This Southern AG product contains Alkyl aryl polyoxyethylene glycol and other ethoxylated derivatives (surfactant) 80%. It works as a wetting agent to increase effectiveness, coverage, and penetration of any herbicide that you use.
So if you want to kill Poison Ivy, this product can do the job. It can be used with Trimec, Atrazine, Brush Killer, and 2, 4-D Amine. This product is for use in Fungicides, Fertilizers, Herbicides, Insecticides.
Prepare 1 teaspoon per gallon of water, or 1 to 2 pints (0.95 liters) per 100 gallons (0.38 cubic meters). Because it is an addition, it comes in handy when you have to cover a lot of ground to kill.
---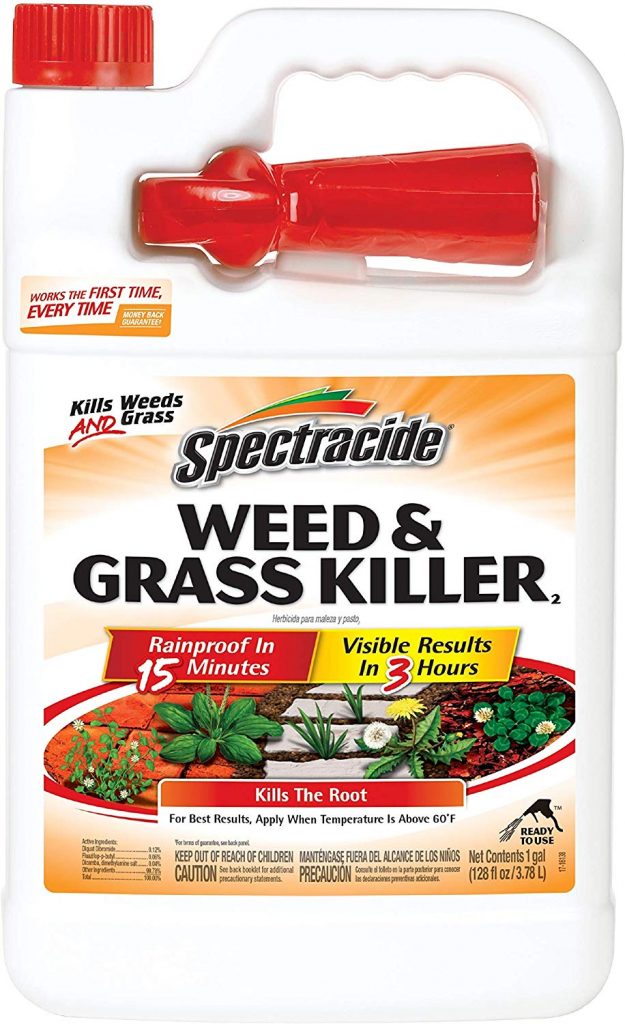 This Spectracide product contains Diquat Dibromide (0.12%), Fluazifop-p-butyl (0.06%), Dicamba, dimethylamine salt (0.04%), other ingredients (99.78%). It is available in 8 litres of the bottle.
This herbicide product is a non-selective herbicide that will only kill contacted Poison Ivy. It starts from the leave and then goes down to the roots.
When it works, it will kill the whole Poison Ivy plant. Do not spray to another plant like lawn grasses, shrubs, and trees.
For best results, wait for a warm or sunny day at least above 60 °F. It is the time when Poison Ivy is actively growing.
15 minutes after you apply this product and there is rainfall or watering will not wash away the effectiveness. Try to wait for high wind, apply when the air is calm.
Spray and cover the leaves of the Poison Ivy bu do not overspray. Poison Ivy will begin wilting and yellowing within 24 hours after the application. Or as fast as in 3 hours.
To kill completely kill the Poison Ivy plant and its roots, you only wait for one to two weeks. You can protect your plants with cardboard or plastic.
You can wash your plant right away when they are accidentally sprayed. Symptoms and the time to kill Poison Ivy will depend on temperature, application rate, and another factor.
It is ready to use. Best to shake well before use, Remove sprayer from its slot beneath the bottle handle and unwrap the tubing. Pull hose plug to completely extend tubing.
---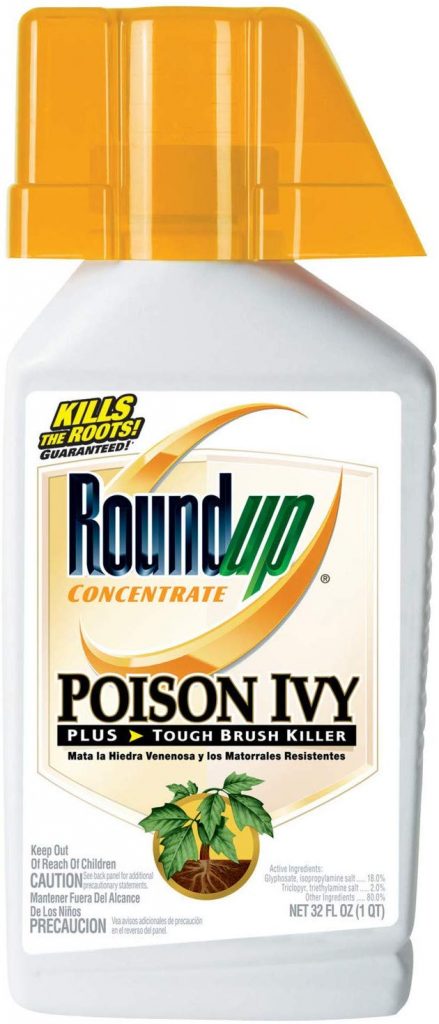 This Roundup product contains Glyphosate-isopropylammonium 18%, Triclopyr, triethylamine salt 2%. It is effective to kill Poison Ivy as well as other weed including Poison Oak, Poison Sumac, Blackberries, and Kudzu.
It is for use in recreational areas, fields, trails, around buildings, cabins, lodges, camp sites, vacant lots and wooded lots.
The two combinations of ingredients have the power to kill even the toughest weeds and grasses. It will kill weeds to the root. It will not wash away even after a rainfall or watering in 30 minutes.
It works very fast and you can see the result within 24 hours after application. For each 1 quart (0.95 liters) can cover over 1,500 square feet (0.01 ha) at 6 oz (0.23 kilogram)/gal.
For tank sprayers, mix 6 fl. oz (0.18 liters) per 1 gallon (3.79 liters) of water. Spray Poison Ivy until completely wet.
Avoid high wind when applying to Poison Ivy that is actively growing. This is to prevent contaminating other healthy plants.
---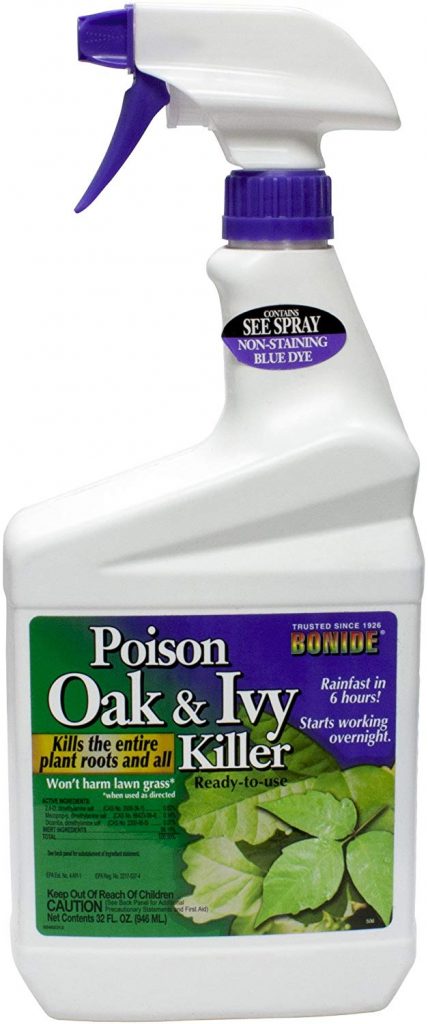 This Bonide herbicide product contains 2,4-D, dimethylamine salt (0.6%), Dicamba, dimethylamine salt (0.07%), MCPP-P, and DMA salt (0.14%). This product can kill Poison Ivy as well as other weed including Black Medic, Chickweed, Clover, Dandelion, Dollar weed, Henbit, Morning glory, Oxalis, Pigweed, Plantain, Poison Oak, Purslane, Ragweed, Spurge, Wild Carrot, Wild Garlic, Wild Lettuce, Wild Onion, and others.
This product uses the Trimec (a combination of 2-4, D, Mecropro-p, and Dicamba) to kill broadleaf weeds to the roots. This product works systemically and travels throughout the plant.
When applied, it will kill Poison Ivy after a few days. It will wash away if your water after each application. Do not overspray or it will cause damage to other plants.
It is available in 32 oz (1.21 kilogram). spray bottle. It will completely kill Poison Ivy in 4 weeks.
---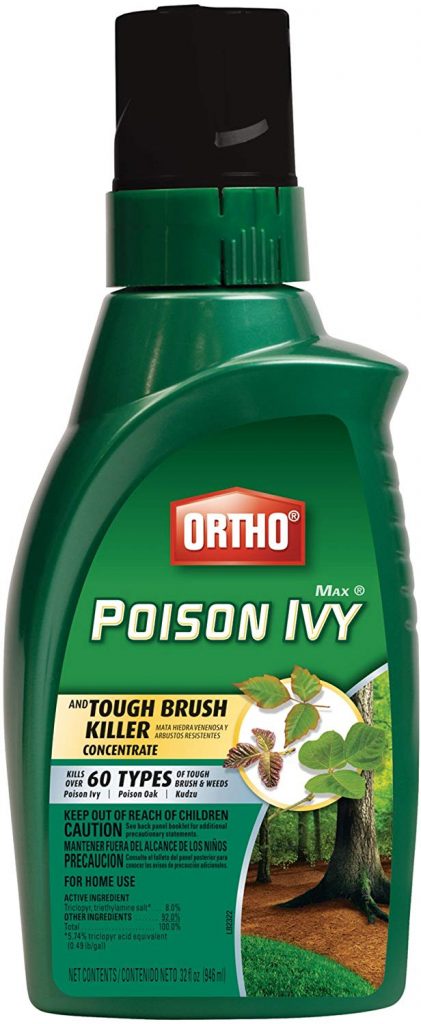 This Ortho Poison Ivy product contains Triclopyr (8.0%). It is available in a 32 oz (1.21 kilogram) bottle.
It can kill Poison Ivy, as well as Poison Oak, Kudzu, Wild Blackberries, Honeysuckle, Maples, Mesquite, Ragweed, Raspberry, Trumpet Creeper, Virginia Creeper, Wild Grape, Wild Rose and others.
It can be used for homes, cabins, buildings, fence lines and trails. Apply this product at the time when Poison Ivy is actively growing. Apply throughout the season.
If you notice a very hard to kill weeds, you should repeat the application if regrowth happens. With 16 oz (0.6 kilogram) can cover up to 1,600 square feet (0.01 ha). With 32 oz (1.21 kilogram) can cover up to 3,200 square feet (0.03 ha).
This product worked even better than expected on Poison Ivy. When you are experiencing Poison Ivy infestation, a couple of weeks after application the Poison Ivy will be completely dead.
Use the coarse spray to reduce drift to plants. Spray Poison Ivy to the completely wet trunk, stems and foliage.
Do not spray to plants or grasses, or they may die too. Foliage spray is not recommended for Poison Ivy's control in lawns.
Use this formula with a tank sprayer or a hose-end sprayer to the garden hose.
This product is a great way and an effective way to cover large areas of Poison Ivy. It keeps Poison Ivy to come back for years.
For safety reasons, wear gloves, goggles and other protective gear during each application.
---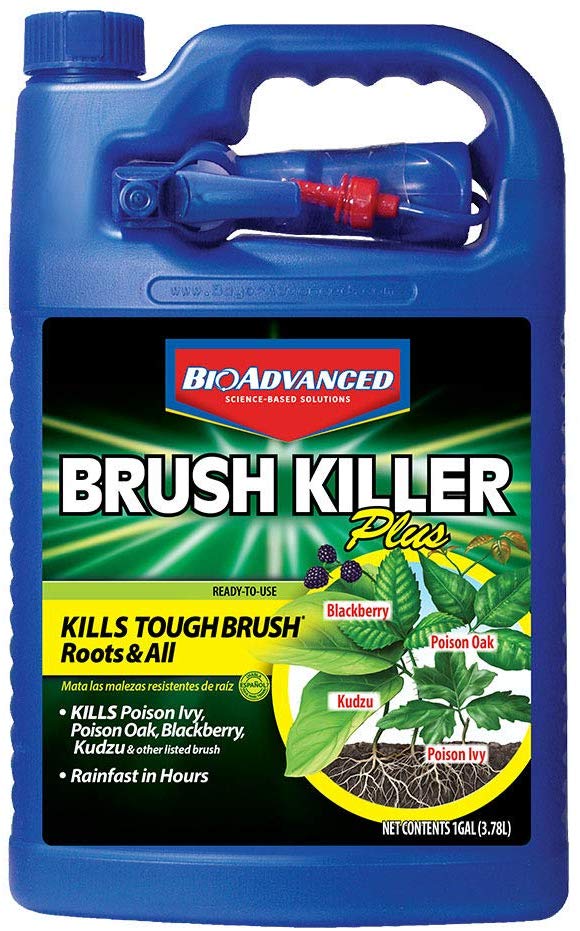 This BioAdvanced product contains Triclopyr, triethylamine salt (90.80%). It is available in 24 oz (0.91 kilograms), 32 ounces (1.21 kilograms), 1 gallon (3.79 litres) and 1.3 gallons (4.92 l) bottle.
This product has penetrating formulas specifically designed to kill Poison Ivy down to the roots as well as Kudzu, Poison Oak, Blackberry, Bramble and more.
This product can be used around homes, cabins, buildings, fences, walkways, trails and wooded areas.
You have to be careful not to touch other plants because this product will kill or injure all woody plants contacted. Quickly wash the desired plant that is accidentally sprayed.
To avoid any drift apply when the wind is calm. It is not safe for pets and people, so keep them away when applying. Do not apply this product around fruits or vegetables. It is hazardous.
Apply when Poison Ivy is fully leafed out and actively growing. Rain or water will not wash away (after 4 hours of application). If a weed is very hard to kill, you can re-apply the application.
This selective systemic herbicide enters plants through their leaves, green or cuts woody shoots, and roots then move throughout the plant and interferes with processes found only in plants. Visual symptoms, such as wilting and yellowing, appear in 1 to 6 weeks.
---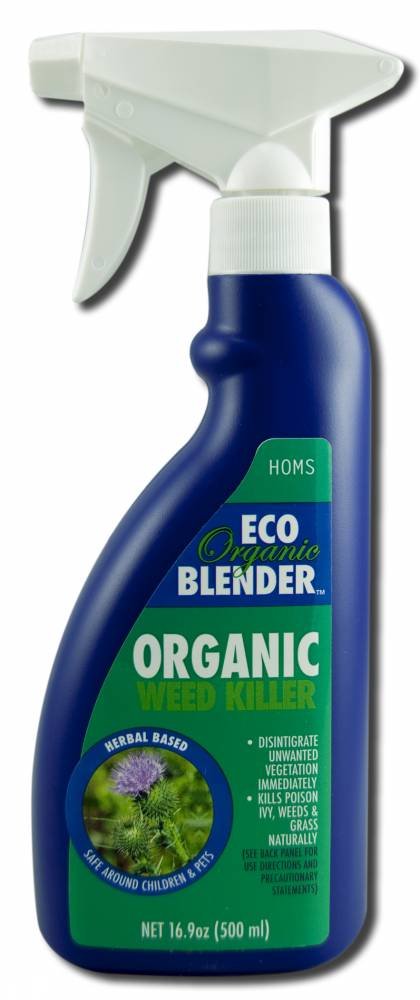 This Bite Blocker product contains Soybean Oil (20%), Citric Acid (4%), Lauric Acid (4%) Inert Ingredients (72% Total): Purified Water, Coconut Oil, and Sodium Benzoate. It is available in a 500 ml spray bottle.
This product can kill Poison Ivy's other weeds and grasses by natural means. It is a natural alternative to chemical-based herbicides that is safe for people and pets.
It is derived from fatty acids of plant oils such as Soybean Oil, Citric Acid, Cedar Oil, Purified Water, Coconut Oil, and Benzoic Acid.
Based on weather conditions or extreme vegetation infestation re-application may be necessary. Breaks down plant mass into beneficial ground nutrients.
You must fully cover the desired plant, so they do not get sprayed accidentally. Use cardboard or plastic to cover. This product will not damage clothing, wood or most plastics.
---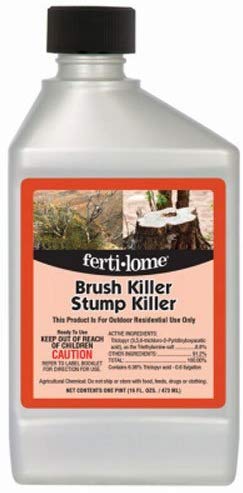 This Ferti Lome weed killer product contains (6.36%) Triclopyr acid 0.6 lb (0.27 kilogram) or gallon. It is available in a 473 ml bottle.
It can kill Poison Ivy as well as unwanted woody plants, and vines. It can be used around homes, cabins, buildings, trails, fences, walkways and other non-crop areas.
For foliage spray, mix 8 to 16 tablespoons with 1 gallon (3.79 liters) of water. This can cover up to 500 square feet (46.45 m²).
---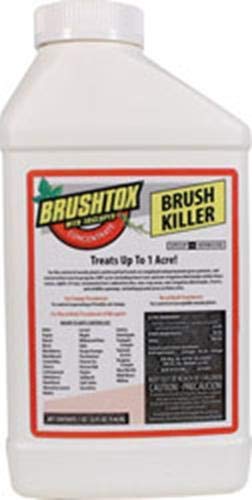 If Poison Ivy is hard to kill and you want weed killer that is very powerful, arm yourself with our newest weapon in the fight against more than 60 woody plants including mesquite, oaks, locust, wild rose, and sweet gum and 30 tough broadleaf weeds like Canada thistle and dog fennel. See the label for a complete list of weeds.
This Brushtox product is a concentrated herbicide that works on ditch banks, fence rows, rangeland, and permanent grass pastures. The product can be applied to broadleaf plants.
The timing to apply this product application must be right to achieve the best results. You can use USDA Planting Zones Guide for temperature and weather conditions for application timing. Make sure to apply on a dry day for the most effective application.
---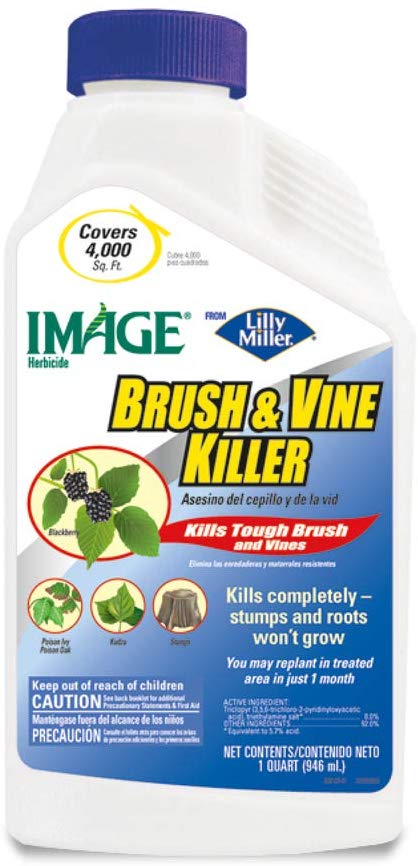 This Image product contains Triclopyr (3,5,6-trichloro-2-pyridinyloxyacetic acid), triethylamine salt. It is available in a 945 ml bottle.
This product can kill Poison Ivy as well as Blackberries, Kudzu, Poison Oak, and Stumps. It will kill stumps and roots will not grow again. After 1 month, you can replant the area infested by Poison Ivy.
You can use it easily. You do not need to mix or measure anything. All you have to do is to attach the bottle to a garden hose and spray the Poison Ivy.
---
How to apply Poison Ivy killer?
Spray the chemical herbicide and target the leaves. Spray when Poison Ivy is actively growing poison and spray until they are completely wet. Wait for a warm day and a calm wind.
To control thick Poison Ivy vines, cut them to 3 to 4 feet (1.22 meters) and then spray the leaves with chemical herbicide. That will finish the job.
To control the tree stumps where Poison Ivy thrives, cut them close to the ground. After that drill four to five holes into the freshly cut stump. Pour in the hole the chemical herbicide.
---
When to apply Poison Ivy killer?
The best control with chemical herbicide happens when it is applied to Poison Ivy plants in the flower or fruit stage of growth. Applications of herbicide at earlier stages of growth are not as effective.
But delaying application until Poison Ivy is in the flower or fruit stage might not be practical. So the best time to apply herbicide to kill Poison Ivy is in the early summer months when there are sunny days and possible calm wind.
---
How to use Poison Ivy killer
Every brand of poison ivy killer has different features. However, basic practices must be followed when using chemical Poison Ivy killers.
A few are ready-to-use. You do not need ave to do anything before application. Products in concentrated form, you must read the instruction label on the package. Mix a specific amount of water to get the right strength and mixture.
Use wand sprayers for the best result. There are pure spray bottles, but you can not control them as well as a wand sprayer.
Spray the killer on the leaves of the poison ivy plant. As much as possible, it would help if you saturated them.
You have to remember that Poison Ivy is hard to kill. You have to consider these chemicals as a potential killers.
You have to prevent the spray from having any contact with nearby plants. Try to use cardboard to protect those nearby plants.
These Poison Ivy killers are usually rainproof pretty quickly and can be waterproof in 30 minutes.
Before the application, you have to know the weather forecast to avoid any rain. It is recommended that the chemicals should stay longer on the leaves for better results.
See if there is no wind when you are going to apply. Just a slight wind can be easily carried the chemicals onto other nearby plants.
Since these are poisonous chemicals, you should always wear protective gear, such as goggles, gloves, long sleeves, and long pants. It would be better to wear a breathing mask.
Always read the safety instructions on the label and follow them accordingly.
---
What type of plant is Poison Ivy?
Poison Ivy has scientific name Toxicodendron radicans. The plant is not an ivy, or like English ivy. It is a plant that has many forms.
You can find the Poison Ivy plant crawling along the ground as climbing trees as a vine, a bushy shrub, or a runner vine. The Poison Ivy plant grows in North American and can be found in disturbed sunny areas.
They mainly spread where humans exist in one area. This spreading means you will find the Poison Ivy plant along roadsides, houses, rest areas, trails, etc.
Unfortunately, the Poison Ivy plant thrives well at a higher level of CO2 as well. The plant keeps growing even during sudden climate changes.
---
Why does poison ivy cause a rash?
The sap of the Poison Ivy plant causes the rash. The oil called urushiol that binds with skin on contact. These chemical toxins are found in vines, berries, and leaves. Even those fall leaves, and winter vines can have the toxic oils.
The oil is an irritating toxin and even thereafter the plant has died. The oil is absorbed quickly into the skin.
---
How does the Poison Ivy spread?
---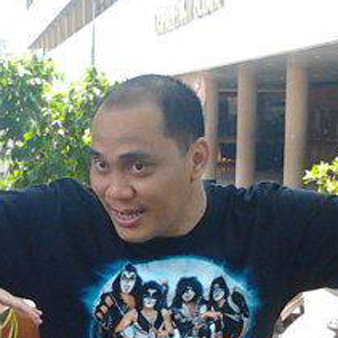 Person: Henry Kaswandi, SS, M.Kom.
Contact Info: You can reach me by email. Hi, this is Henry Kaswandi, SS, M.Kom. I am a garden and outdoor activities lover. I try to write a comprehensive article for good information and guide.